SPOTLIGHT: The Cozy Cafe
The smell of baked goods radiates through the hall as students in the Cozy Café prepare to open for the day. Teachers wait to get their morning coffee, and they greet the students as they walk in. After stacking the plates, taking out the register, putting the "daily special" sign out front, the Cozy Café is officially ready for business.
The Cozy Café is a school-based business that is part of the life skills program at Monroe-Woodbury High School. Its purpose is to teach basic skills that apply to daily living, so students can understand more about daily life and integrate better into society. 
The Cozy Café is recognized by New York State as an official business. It is located on A floor and is open all day for snacks and coffee. Breakfast is also sold every Friday from first to fifth period, and lunch is sold on Wednesdays. 
Some of the food sold at the café include baked goods like muffins, bagels, and chips. The lunches include various sandwiches, salads, and other types of cold meals. 
Freshmen Olivia, Jayson, and Margaelle all work at the café. Their favorite thing to do is cook. Jayson particularly enjoys when substitute teachers and security guards come in to order.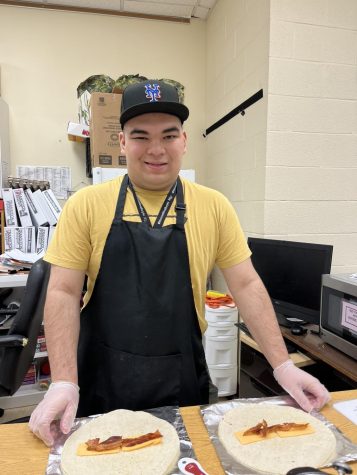 Marco is another worker at the café. He enjoys folding and setting up the burritos. He also finds it very enjoyable to show the younger students how things are done with his experience. Marco said, "When Ms. Orkoulas tells them to put their aprons on, it's time to get to work!"
Marco makes the burritos, and health teacher Ms. Wright buys them. She usually gets the bacon, egg and cheese burrito. 
Ms. Wright said buying from the café is the highlight of her week.
Her favorite part is seeing the students' skills develop throughout the school year and seeing them become more confident in themselves. 
"We learn how to get a job," said junior, Aaron. Aaron works every day and enjoys making the potatoes because it's "so much fun to flip it [the potato] on the grill." Aaron said working at the café teaches him to do his work and get it done. 
Sophomore, Logan, likes to dry the dishes, talk to the security guards that come in, and cook the eggs. 
Working as a cashier is another popular job at the café. Stephanie has been working at the café for five years and loves to work as a cashier, but she doesn't like to make burritos because she needs to make eggs, which is frustrating for her. 
Unlike Stephanie, Hansel enjoys cooking eggs. Hansel works alongside his brother, Adams, who also loves to cook. 
"The Cozy Café gives students the opportunity to greet customers, take orders, and prepare meals for them," said health teacher Ms. Wright. "I think that the café allows students to practice skills that they can use for future jobs as well as general interactions with others." 
Physical education teacher, Mr. Tierney, also frequently buys from the Cozy Café. He goes there every day after second period and also buys breakfast on Fridays. His "go to" is the "Coach T" bowl, which is a breakfast bowl with Colby-jack cheese, beans, hot sauce, and other toppings. The dish was named after him. According to Mr. Tierney, it's "similar to Chipotle but better."
Mr. Tierney also loves going to the café because he sees and supports his students' work, and the business helps them learn to communicate with others. 
Jordy, a sophomore,  does not like making the eggs and said, "sometimes it's a little hard for me to do." Instead, he operates the cash register. There is a job for everyone at the café and the students are also guided by their teachers through the more challenging tasks. Jordy particularly enjoys when Mr. Tierney comes in. 
"
It is a warm and welcoming environment, the food is delicious, and there is always a new option on the menu."
— Ms. Wright, health teacher
Senior, Alexza, loves "seeing the happiness of the teachers" when they come in to buy from the café. 
According to the Cozy Café adviser, Ms. Orkoulas, "Everything is popular" in the café, but the breakfast bowl (a bowl filled with egg, bacon, potatoes, peppers, onions, and scallions) along with the pumpkin and chocolate chip bread are among favorites of the M-W staff. 
The café names many of their food items after frequent buyers. The "Safety Booth" is a burrito with bacon, egg, cheese, and potato that is often ordered by the school's safety officers.
Ms. Rosario is a frequent visitor and said, "I love specialty items. It is a neat way to highlight some unique food combos that you may not have considered, plus you feel special to have an item named after you, [it] makes you feel a little famous."
All students in the life skills class are required to participate in operating the Cozy Café. Ms. Orkoulas said it provides them with needed skills to get other jobs. 
Another aspect of the class is that some students take a bus to work jobs during the school day. These jobs include cleaning at the local YMCA gym, working at a nearby movie theater, or helping out at ShopRite in Monroe.
"We do offer community placement at different retail stores," said Ms. Orkoulas. The students go on a bus with a job aide, and it helps them to "develop skills needed to work independently."
Angelina, a freshman, said she enjoys cooking and said she has a lot of fun.
She said she would like to leave everyone with a joke: What do you call a sleeping bull? A bulldozer!
*Student last names were left out of this article due to privacy concerns.