Boston Bound: voice ensemble trip 2019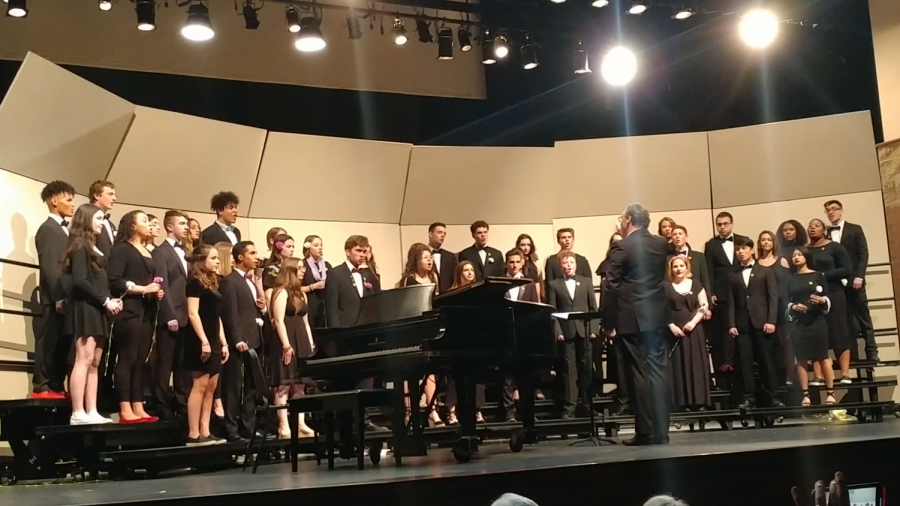 Claire Donnelly, Contributing Writer
April 30, 2019
Monroe-Woodbury High School voice ensemble went to Boston on April 25 to participate in a competition between the best choirs nationwide.
Voice Ensemble is "a select choir whose members are chosen by individual audition. The group performs more challenging music, both of the traditional masters as well as contemporary composers," according to the Monroe-Woodbury website.
They hold auditions for any high school student who wants to try out.
The high school website also states, "the audition includes a range test, sight‑reading material, and a general evaluation of vocal quality."
They will be going to Boston a few days after spring break to battle in the competition. The ensemble will be singing three songs: "Musica" by Brant Adams, "Dona Nobis Pacem" by Daniel Elder, and "Battle of Jericho" by Moses Hogan.
"I think the battle of Jericho is the best piece out of the three pieces. The chorus seems to really enjoy how intense the song is and the fast tempo," said J.P. Incledon, a senior in voice ensemble.
The students have been preparing for a long time.
"I feel like I am prepared; I have all the music memorized," said Incledon about his preparation. " It is my first music competition, so I am nervous, but I feel like we are going to do very well at the competition."
Dr. Crone, the director of voice ensemble, said, "We have been working really hard rehearsing. We are no longer in the learning notes stage, we're working on the nuances of the music."
While in Boston, they will have a specific schedule to follow. On Friday, they will go to see the Boston Symphony concert then check in at the hotel. Later they have a boat dinner cruise before going back to the hotel for the night.
On Saturday morning, they will "get up and go to the competition with twelve other schools, Saturday afternoon we will be spending the afternoon in Boston (Quincy area) and Saturday night, we will attend the awards dinner and be back on Sunday," said Dr. Crone.
Dr. Crone has been teaching at this school since 2002 and when they first started to go to these competitions in 2003 or 2004, the voice ensemble has always won an award, whether it be for first place, second place.
While students perform their songs, Dr. Crone will be conducting them. There are two a capella songs, and he will be conducting one of them.
"One thing the chorus needs to remember is to watch the tone. Some parts are quiet and some parts are extremely loud. If we follow the tone perfectly, the pieces will sound perfect," said Incledon.