Vice-presidential Candidates Face Off in First Debate, Students React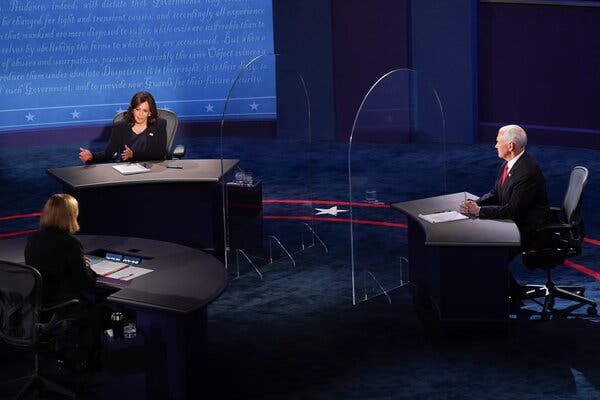 The two vice-presidential candidates for the 2020 presidential election went head to head in their first debate on Wednesday, October 7. 
According to the New York Times, 58 million people viewed the debate, making it the second most-watched vice-presidential debate in US history.
The candidates included Republican Vice President Mike Pence and Senator Kamala Harris, a Democrat and former Vice President Joe Biden's running mate.
The topics ranged from the coronavirus, to China, and the election. Finally, the debate ended with a question from an eighth-grader in Utah, who asked "If our leaders can't get along, how are the citizens supposed to get along?"
The vice-presidential debate was much more civil than the first presidential debate. CBS News found that Vice President Pence only interrupted Senator Harris 10 times, during the 90-minute debate, and Harris interrupted Pence five. 
One highlight of the debate occurred when Pence tried to interrupt Harris as she was speaking. "Mr. Vice President, I am speaking," Harris said, not allowing him to speak over her.
While Kamala Harris was attacking President Trump's response to the pandemic, Mike Pence told her to "stop playing politics with people's lives."
This debate was much more informative, and it helped the American people learn more about each candidate's plans. 
The most popular part of the debate was the fly that landed on Mike Pence's hair and stayed there for about two minutes. It was impossible to miss. Only a few hours after the end of the debate, the Biden campaign was selling fly swatters.
In an online poll, 118 M-W students who watched the vice presidential debate stated that Kamala Harris had won; 66 students voted Mike Pence as the winner.
Daniel Tomassi, a junior at Monroe-Woodbury, said that Pence was the clear winner. 
"I thought Pence won the debate and he presented his arguments like I would," said Tomassi. As compared to the presidential debate, Tomassi found this debate "way more efficient, the millions who were watching actually can make a decision based on policy between the candidates."
Daniel thought Mike Pence's best arguments were the counterarguments in the COVID topic. When asked what he thought Pence should work on, he said, "I would say maybe be a little bit more aggressive, but only a little bit and not like Trump."
Collin Murray, a sophomore, also thought that Mike Pence won the debate. 
"Pence made a valid point about court packing [expanding the Supreme Court], and Harris wasn't even able to talk on the topic," said Murray. "Pence brought up the American woman that was held hostage and killed by ISIS and called out Biden and Obama on not going to save her and hesitating to save an American life."
Amanda Piazza, a freshman at Monroe-Woodbury, disagreed with Tomassi and Murray, and thought that Harris was the winner of the debate. 
When asked what her favorite point made by Harris was, Piazza said, "Definitely when she brought up how badly the Trump administration handled the virus and how much they lied about it."
Piazza thought Harris could work on proposing more ideas that fit both parties, rather than just the left: "It might scare someone or be too much for a conservative."
Jordyn Rosenholtz agreed with Piazza and thought that Harris had done much better in the debate. 
"Personally, I think that it was a complete joke and I'm embarrassed for our country. Pence deflected and completely failed at answering anything," said Rosenholtz, a sophomore. 
Every person interviewed agreed that they supported the same person at the end of the debate as they did in the beginning. They also agreed that this debate was more informative than the presidential debate. 
CNN reported that Mike Pence spoke for 36 minutes and 27 seconds, while Harris talked for three seconds less. However, according to CBS, Kamala spoke for 35 minutes and 20 seconds, and Mike spoke for 38 minutes and two seconds.
Here is a link to the full vice presidential debate: https://www.cnn.com/videos/politics/2020/10/07/vice-presidential-debate-full-video-2020-dbx-vpx.cnn.
Election day is November 3rd.
About the Writer
Jenna Rowen-Delson, Staff Writer
Jenna Rowen-Delson is a sophomore at Monroe-Woodbury High School. This will be her second year writing for the school newspaper. She participates in many...