Monroe-Woodbury's new mascot gets a name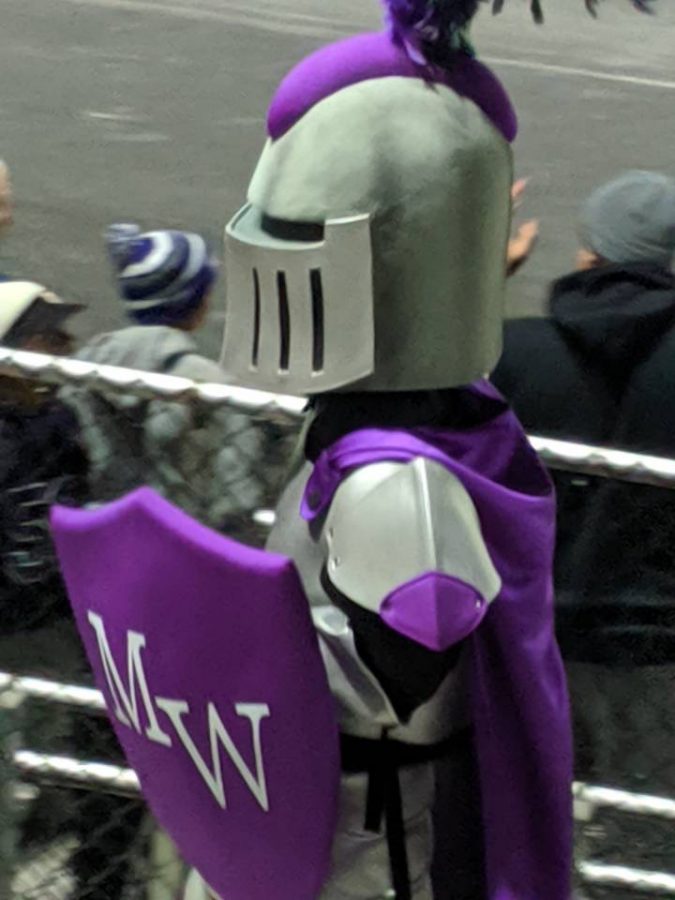 Monroe-Woodbury High School's new mascot was revealed at the first football game of the year on Friday, September 13, 2019. 
In early September, it was announced that the mascot's name would be selected by the students. 
After a student vote, it was decided in November that the mascot will be named Woodroe: a combination of Monroe and Woodbury. Other options students chose from were Champ and Captain Crusader.  
This new mascot is a large, cartoon-looking, caped knight with a helmet and silver armor with black and purple to match Monroe Woodbury's colors. The mascot has a purple and black plume on his head; he wields a purple shield with MW written on it. 
According to an email from Ms. Spendley, the district's community relations coordinator, the mascot was created by Maydwell Mascots. Based in Canada, Maydwell makes costumes for clients including Dunkin' Donuts, Chips Ahoy, Nickelodeon, Planters Peanuts and many universities. 
The mascot cost $4,250 for the production and shipping of the suit. Ms. Spendley said the district will get its money's worth.
"We felt it was time for the district to have a 'live' symbol of our Crusader pride and the mascot will make appearances all over the district throughout the school year at events, activities, games, community gatherings, etc.," said Ms. Spendley.
Despite all the ways the mascot will be used, some students feel that the cost of the mascot was too high.
"I think the name is creative," wrote sophomore Christopher Yarrington in an email. "However, I believe there were better things that the money could be used for."
Many students appreciate the new mascot, Woodroe.
"Yeah, he's pretty cool," said Ryan Kumar, a freshman.
At first, it was unknown who would don the Woodroe costume, but earlier this year it was revealed that Coach Tierney is under the helmet.