Monroe-Woodbury raises money at annual St. Jude's basketball game at North Main Elementary
On Friday, November 9, North Main Elementary School hosted a charity basketball game featuring the North Main staff.
All proceeds from the game went directly to the St. Jude's Research Hospital, particularly in remembrance of a North Main student who passed away from leukemia.  The St. Jude's Research Hospital helps children diagnosed with cancer, regardless of the family's ability to pay.  The event raised over $4,000.
"[The] entire North Main Community comes together for a joy-filled night to support the worthy cause," said Ms. Palmer, who has played in all of the St. Jude's games.
Ms. Palmer said that it is always so wonderful to see current, former, and future students with their families at the game and that it is a great example of our how our PTA, faculty, staff, and administration work together.
Ms. Palmer also stated that over $80,000 was raised through the years.
During the game, fans were able to buy toys or raffle tickets to support their team and to raise money.
After the National Anthem was played, everyone took a seat as the players lined up to begin the game.  And by the time halftime rolled around, the red team had a significant lead over the blue team. Raffle winners were announced during halftime. For the last few minutes of the final quarter, the crowd was at the edge of the seats in anticipation. Each team kept scoring, making the score very close. However, when the final buzzer sounded, the red team was triumphant. 
About the Contributor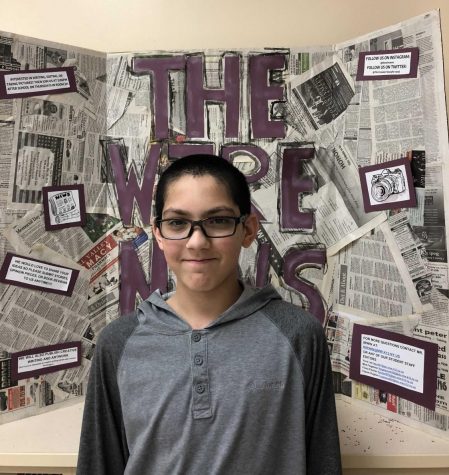 Jared Anderson, Staff Writer
Jared Anderson is a freshman at Monroe-Woodbury High School, and this is his first year in The Wire News Club.  Born in New Jersey and lived in Illinois...