M-W Introduces a New Varsity Esports Team to Spring Sports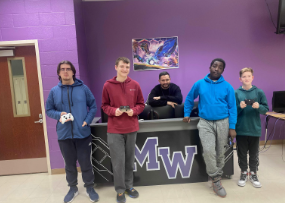 Esports is a new sport this year at Monroe-Woodbury High School. Previously the gaming club, it has now become a Section 9 approved varsity sport. 
Mr. Gartiser, coach and club adviser, created the gaming club three years ago. At first, the club started out being a regular club with no equipment to play games with, so they discussed them instead. As gaming became more popular and Section 9 approved of varsity esports, the gaming club was re-established as the esports team. 
Esports (short for electronic sports) are video games played at competitive levels. Teams play and go against each other virtually on PCs (Computers). 
Esports competitions have been going on for a while now, but they have begun to gain popularity over the past five years. This trend has come to many other schools such as Middletown and Washingtonville. In New York State, there are around 52 esport teams.
The esports team uses the PlayVs and the High School Esports League Platforms to organize leagues and competitions for a variety of games. These organizations are similar in retrospect. Where both corporations' goals is to connect students across the world through the virtual space of gaming. 
"They [the organizations] currently offer 'Super Smash Brothers', 'Splatoon', 'League of Legends', 'Rocket League', 'Madden', and I believe 'NBA 2K'," said Mr. Gartiser. 
"We are doing 'Rocket League', which is basically soccer and you control cars to hit the ball. A three against three person game, just like a normal game of soccer would be like Monroe vs. Middletown. And it would be played in a best of three or five games. We are only doing 'Rocket League,' but there are a ton of other games where people have teams and compete against," said Mr. Gartiser. 
In spite of that, NYS requires these games to comply and adhere to their Data Privacy Laws. The laws are used to make sure that the materials on the servers are safe and appropriate for the users. 
"So it's not like we can throw a game out there and say we have a team, because it may not be allowed through the Data Privacy Laws," said Mr. Gartiser, who added, "as the years go on we can offer more games…" 
There are currently six people on the esports team and there were no try-outs because of the enrollment. Just like a normal sport, when more people become interested, there is a chance not everyone will get in. 
Mr. Gartiser says, "I think due to the amount of P's and stuff we have, we wanted to have the gaming club to try and ease our way into an esports team. Right now, our focus right now is the esports team, that's not to say the gaming club won't be around anymore."
Ideally as the club becomes larger and more popular, the esports team would probably be a multiple season sport, as well. According to Mr. Gartiser, there are esports seasons in the fall and spring, giving the team more opportunities for play time on these platforms, aligning with PlayVs and the High School Esports League. In possible future off seasons, the gaming club will be able to allow those who don't want to participate in the team and just in the club. 
Mr. Gartiser states, "One of my goals is for me and the team is to bridge the gap between athletics and esports…Whether it is playing a video game or a real soccer game you are still competing." 
According to Mr. Gartiser, esports includes the same benefits as other traditionals sports: communication, hard work, leadership and teamwork.
Esports gives the students more chances to go and try something new, something different from traditional sports. 
"Just like any other sport would, we can now give those kids an opportunity to shine. It gives people an opportunity to compete on something that isn't on a grass field. Just because you are controlling something or behind a computer screen doesn't mean you aren't putting a lot of time into getting good at it, doesn't mean you aren't being a leader on your team, or working with people to achieve a common goal," said Mr. Gartiser.