Spring Sport Registration is Underway at Monroe-Woodbury
Spring sport registration and tryouts are underway at Monroe-Woodbury High School. Sports include baseball, golf, lacrosse, track and field, tennis, softball, and newly offered esports and girls flag football. 
Prior to trying out for a spring sport, interested students must register on the official M-W registration portal. The website became available on Monday, February 13. Students must have an updated physical on file in the school health office dated from March 1, 2022 or later. Finally, students must join the team's Google Classroom to show their interest to the coaches and receive more information regarding the team and tryouts.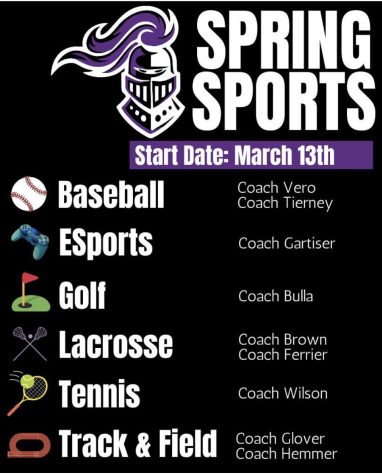 This year will be the first year a girls varsity flag football team will be offered. It will be coached by Coach Schellburg and Coach Santoianni. 
Esports will also be available this year. These games are often played multiplayer and are competitively played and spectated. The M-W esports team will be playing the game Rocket League under the guidance of Coach Gartiser.
The track and field team is a popular choice that people consider joining. Junior Jason Saldanha said, "Monroe-Woodbury is definitely one of the better teams in the area. We always encourage each other and overall create a positive environment to do better." 
Senior lacrosse player Reilly Groff said, "Our team creates a really supportive environment that harbors much success. We always support each other and challenge each other to get better."
Junior Tais Padilla recommends joining the lacrosse team to people who are "competitive and like to get physical."
"You make good friends with this sport [lacrosse] and grow physically and mentally," said Padilla. 
Softball and baseball are also great sports for people looking to join a physical activity. Last season, Coach Sullivan and Coach Earl led the softball team to victory in the state championships. 
Senior Ashok Sathiyamoorthy plays tennis and recommends joining the team. Only the boys tennis team is played in the spring, while the girls tennis season takes place in the fall. 
"I've played tennis since elementary school and enjoyed being on the school team. It's a collection of great players and coaches, and the combined emphasis on performance and sportsmanship is something worth noting," said Sathiyamoorthy.
Another option to consider is the varsity golf team. Mr. Bulla, the coach for the boys team, is excited for the upcoming season. 
"It's a great way to end the school year with a little golf," said Mr. Bulla. "I love playing with the team."