Poetry Out Loud Competition Brings Words to Life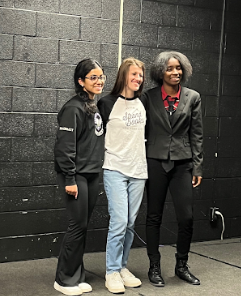 Two Monroe-Woodbury students were chosen to represent the school at the Poetry Out Loud regional competition.
Poetry Out Loud (POL) is a National Poetry Competition, which starts in the classroom, progressing to building, regional, state, and national levels. 
The process to enter Poetry Out Loud is quite simple. All you have to do is find a poem within the huge database of the POL website and find one that resonates with you. The organization recommends that you attempt to capture the character of the poem in order to score well. In the classroom contest level students need to memorize one poem to start; as you progress through the levels of the competition the number of poems you need to memorize increases.
Classroom competitions started mid-November and school-wide competitions started right before winter break.
Scores for POL are calculated based on an official rubric from the organization, which is based on how well students portray the piece, and how accurately they recite it. 
"Anyone who is a fan of poetry should give it a shot," said Mr. Filie, an English teacher at Monroe-Woodbury.
Not all English classes participate in Poetry Out Loud, but if you are interested in participating in Poetry Out Loud next year you can speak to Ms. Rosenfeld to take part in her separate competition.
Junior Diya Mangatt  and Sophomore Yaheli Cruz have been selected to compete in the regional Competition for Poetry Out Loud in New Paltz with Senior Jules Johannemann as an alternate. 
"I decided to do Poetry Out Loud because of my interest in poetry and writing," said Yaheli Cruz. "Me and a couple other friends participated in the classroom competition last year and made it to the schoolwide competition where I got second place. Poetry Out Loud at the high school is a very nice experience."
Cruz chose to memorize the poem "The Contract Says: We'd Like the Conversation to be Bilingual" by Ada Limon. 
"I decided to compete in the Poetry Out Loud Competition after my English teacher Mr. Filie recommend that I try it out," said Diya Mangatt. "It was a great experience and everyone that participated was incredibly talented."
Mangatt memorized the poems "And I Wonder Where You Are"  as well as "The Ragged and The Beautiful."
"The poems not only spoke to me, but they reflected on my life as a person. In the end, you cannot control everything but the least you can do is try your best," said Mangatt. She thanks her teachers, family, and friends for encouraging and supporting throughout the competition. 
"I chose to do Poetry Out Loud because I loved having the opportunity to work and collaborate with so many other students who have such a gift for speaking and making poetry feel like a work of art," said Johannemann.  "I think a lot of the time, people dismiss poetry as just words on a page, but when poems are brought to life and spoken out loud, there's another level of depth to it."
Johannemann chose to memorize "Where the Wild Things Go" by D. Gilson and "Self Inquiry Before the Job Interview" by Gary Soto.
"I like modern, free-verse poems that usually have to do something with humor or levity," said Johannemann. 
"If anyone is on the fence about trying Poetry Out Loud, I would say definitely go for it! It's such an amazing, supportive community of people, and there are some scholarship opportunities if you advance," said Johannemann. 
The regional competition took place February 1 at New Paltz Community College and the New York State finals will be held on March 11 in New York City.