"Hats for Hope" gives back to the Monroe-Woodbury Community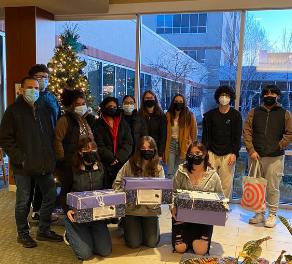 Kids Changing the World club (KCW) at Monroe-Woodbury High School organized a hat drive for cancer patients at Garnet Health Medical Center. The hat drive ran through December, and was done to help keep cancer patients warm and comfortable in the winter. KCW members were able to deliver 250 hats to Garnet Health by Dec.21. 
The club organized the drive by working with Hats for Hope, a non-profit organization started by a woman named Colleen McCarthy that had the goal to bring support and love to cancer patients. 
The club's adviser, Mr. Agro said, "Colleen was a cancer patient who began the Hats for Hope Program in which she donated hats to fellow cancer patients, so they would always have something soft, warm, and from the heart close to them throughout their journey."
McCarthy was a family friend of Mr. Agro, and she unfortunately passed away from breast cancer in 2015. Her passion and contribution led to Mr. Agro to help cancer patients at Garnet Health.
Once all the hats were collected, the club went to the hospital and gave the boxes to the staff. The staff then distributed the hats to their admitted cancer patients. 
''The hospital administration told us that the cancer patients were appreciative for having warm hats, as it gets cold in winter,'' said Mr. Agro.
Mr. Agro is proud of the club members' work. He said, ''It's good to know there are kids out there that are eager to help kids out they're in need, which is what KCW is all about."
He is very pleased with seeing the compassion and kindness the kids showed throughout the event.