The Flu Season is Underway at Monroe-Woodbury High School
Flu season is underway in New York, and many students from Monroe-Woodbury High School have been feeling its effects. 
Flu season is an annual occurrence due to a drop in average temperatures. The influenza virus spreads rapidly. This effect is amplified in a school environment, where students are constantly walking through crowded hallways and interacting with others. 
The most common flu symptoms include, but are not limited to, sore throats, fevers, and coughs. Though nausea and other more severe symptoms are possible as well.
"I just came back from being sick today," said freshman Bryan Amaya. "I was nauseous and had a slight fever."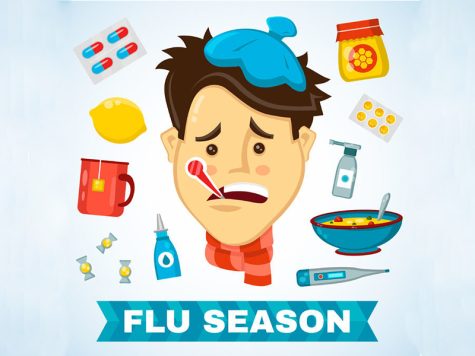 Students and staff alike have been affected by the flu, and some of them have taken notice of the increase in student absences or have caught the flu themselves. However, some believe that it is not a drastic difference compared to other parts of the year.
"I personally haven't noticed that drastic of a change in attendance," said Mr. Peterson, a Physics  and Coding teacher at Monroe-Woodbury High School. "The main thing I noticed is that a lot of students' voices began to sound different than usual."
Being infected with the flu can often result in an increased amount of stress for the students who catch it. Students who become sick still have to complete any assignments that their teachers have posted on Google classroom. This can cause a lot of pressure for the sick student and often results in a drop in class averages.
"Yes, I feel pretty stressed," said junior Kevin Guzman. "I feel like it's because of the increased workload, but I've been able to manage" 
Many teachers choose to stay after school or allow students to come in during their lunches and study halls in order to make up any work they may have missed while they were out sick.