English Teacher Awarded the New York State Educator of Excellence Award
English teacher Ms. Rivelli was awarded the New York State Educator of Excellence Award by the New York State English Council after being nominated by English Department Chair Ms. Bulla. 
Ms. Rivelli, who teaches 10th grade, found out about her nomination near the end of September through an email. She received the award from NYSEC in October at a conference in Albany. 
"The award is one that educators around New York State can nominate their colleagues for. It is given out at the elementary, middle, secondary, and college levels," said Ms. Bulla. "I think the reward itself is a significant way for educators to grant commendation to their colleagues, which is not an easy thing to do in this profession."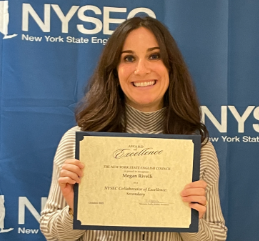 Rivelli has been teaching for 16 years, and this is the first award she has received for teaching.
"I think that it really came at a great time because as a teacher I was starting to feel like what am I doing, am I making a difference, am I helping and start to question if what you are doing is helping or making a difference," said Ms. Rivelli. "It just made me remember why I love teaching and why I'm doing it."
Many teachers enjoy working with Rivelli and many of her students enjoy her class.
"Ms. Rivelli has dedicated her career to enabling her students to find their voice, to become readers, to see themselves as writers, and to grow their capacity," said Bulla. "She does it with enthusiasm, and with a ton of productive energy that students find inspiring. She had a number of students over the years who look back to the time in her class as one of their favorite classes in high school, if not the favorite."
There is more than one winner each year for this award, and other teachers in the school department have received this award in the past.