Boys Cross-Country Federation Wins State Championship Meet
The Monroe-Woodbury Boys Cross Country team won the Federation State Championship meet on Saturday, November 19, 2022. 
The boys raced with 30 teams. Other participants in the race included runners from NYS Association of Independent schools, Catholic High Schools, and NYC Public School Athletic League.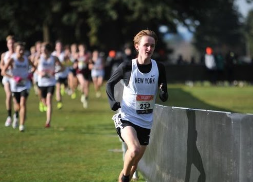 Monroe-Woodbury became the first Section 9 team to win the Federation title since Pearl River High School won in 1978. 
Collin Gilstrap won first place in the Boys Championship 5k. His time to complete the race was 15:51.3, According to leonetiming.com.
One of the coaches for the Boys XC team, Mr. Hemmer, gave advice to his team before their victory. "During the last half mile remember: Nobody passes us, we do the passing!"
Mr. Hemmer was thrilled about his team's win. "To be able to train the boys and bring MWXC its long overdue first XC team state Championship meant the world to me."