Bear Sighting on District Grounds Shuts Down Outside Activities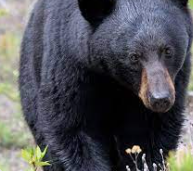 A bear-sighting on Wednesday, October 12 forced Monroe-Woodbury High School to cancel all outdoor after-school activities
An adult bear and two cubs were seen by the soccer field between the middle school and high school that day. 
"In the middle of my practice, I remember being stopped midway during a drill and being told that a bear was on school property," said Reese Dolan, a junior and varsity soccer player. "Everyone at the practice was a bit confused and astounded."
The soccer team immediately got in their cars and went to the lower gym for practice. 
"We were having tennis practice when it all got canceled, and we had to go back up to the school," said Samatha Curran, a junior and varsity tennis player. "I feel like it was annoying because it's more dangerous to walk all the way back up to the school, rather than stay within the courts where the bear shouldn't have been able to get us."
On the following Thursday, there was another bear spotting. This again resulted in all outdoor gym classes being canceled. A decision was made later that day that outdoor sporting events would not be canceled. This was because the bear was no longer in close proximity. 
Mr. Tripodo, the Director of Security and Emergency Management, explained the steps that were taken to ensure the safety of students. 
Mr. Tripodo had contacted the Department of Environmental Conversation and spoke to two officers about the proper precautions the school should take. He also reached out to the Aggressive Bear Unit.
"They assured me that, by large, bear attacks are extremely rare, black bear attacks, that is, are extremely rare," said Mr. Tripodo. 
Grounds and green people went through the area, sounding air horns in hopes of scaring away any bears in the area. To ensure the safety of the cross-country athletes, who often run throughout the school's campus, they also went deeper in the woods with their vehicles blaring the air horns. 
Additionally, safety officers at Monroe-Woodbury are equipped with the necessary resources to protect students from any future bear related threats. 
"We have given my safety officers air horns, they are small so we can carry them with us. And if we get any sightings of the bear, and we happen to be outside, we have them with us," said Mr. Tripodo. 
No bears have been spotted since Friday, October 14, 2022. 
"Things have been safe and quiet, and no issues since last week (the week of October 12)," said Tripodo.