Monroe Businesses Decorated with Halloween Murals by the National Art Honor Society
Monroe-Woodbury's National Art Honors Society members went on a field trip on October 20 to the Monroe-Free Library to paint windows in town for Halloween.
The students got permission to take this trip a week prior. On the day of the trip, the student artists met in the lobby between period two and three in order to have time to get all necessary supplies and go on the bus to make the trip.
The library and other small businesses in the area requested to have their windows painted. Ghosts, pumpkins, and other characters were painted to decorate Lake Street businesses.
The students were overseen and led by the club adviser, Ms. Pesce. She was extremely proud and happy with their hard work. 
"My favorite part was watching the artists come up with the sketches, but then adjust because the size of a window is different than a sketchbook," said Ms. Pesce.
Ms. Pesce said that the local business owners love the opportunity to have students decorate their widows.
"I got a bunch of emails asking if they could have their windows done next year," said Pesce. 
Pesce believes that this event is incredibly important for the NAHS artists to be exposed to real-world working experiences and show off their talents to the local business and community. 
Moraya Charles, a senior who painted at Bossi's Bakery & Cafe, said, "They gave us treats for our work! I think it's a fun, little gift to give the businesses"
Anya Malhotra, a sophomore who painted, said, "It was my first time, and I really enjoyed it! Watching everyone paint around, I think that was my favorite part. I saw some people walking by us working, and they said they really liked our work."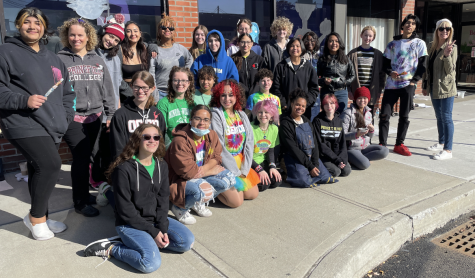 Senior and president of the district's NAHS, Olivia Miller, also participated by painting the windows of Planet Pizza.
"Everyone was very productive, and I saw a lot of creative ideas. I think that it really helps with brightening up the town, and giving students a chance to show their hard work, and creating that relationship between the business owners, who can get more customers, and the artists, who get to have fun," said Miller.