Electives offer students an opportunity to explore interests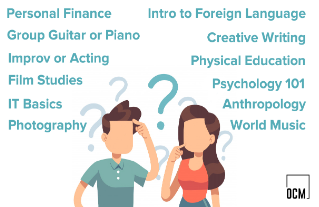 Each spring, with the help of their guidance counselors students have the opportunity to select the classes they would like to take for the following year. Unlike a standard required class, electives are courses that students have the possibility to choose based on their interests, although they are required as a part of the curriculum. They are meant to make students' learning experiences more enjoyable.
"Asking a person about what would be the best electives to choose from would be a difficult question because all of the electives offered at Monroe-Woodbury High School are wonderful," said Vice Principal Mr. McElroy. "When it comes to choosing one there are many options  meaning that whatever your interests may be you should be able to find a course that intrigues or engages you,"
For instance, students might seek out courses that gives them opportunities not found in the standard curriculum. This was one of the reasons that junior Anthony Coto-Gonzalez enjoyed the Electronics/Robotics course.
"The course makes you work with your hands. I found it really fun to solve problems in the programs and to assemble the circuits in class," said Coto-Gonzalez.
Other courses might allow a student to tap into their creative side .
"I enjoyed taking drawing design for production because it was a very creative class and I thought that was pretty fun. I enjoy art in general," said Alexia Joseph, a junior.
Mr. McElroy suggests students let their interests guide their elective choices and to be active during the scheduling process. This would include reviewing the program of study offered at the high school to select the courses that "sound best to them."
Abigail Joseph, a senior, said, "My favorite elective would be Culinary Creation, not because it is just an elective, but because I get to cook, eat while enjoying doing it. It feels good having a class where you get to do what you like without being forced and I feel like that everyone should be able to choose electives based on their passions and interests."
As a student myself, I believe that giving students the opportunity to choose their electives course by themselves makes learning enjoyable and gives them the possibility to grow in a way that works for them. Therefore the best elective students can choose is one that allows them to explore beyond the core curriculum, that focuses on current and emerging passions and talents, and that would eventually point them to future careers .
Remember your "Why" when choosing an elective and never forget that you are free to choose something you truly want to dive into because they can help you learn about yourself and make your academic journey unique.
Students recommended a wide range of different electives offered at the high school.
"Sociology is my favorite elective because it dives into intellectual topics that we don't discuss otherwise, like how humans interact," said Leanne Fernandes , senior.
"Graphic Design was my favorite. It let me express my abilities in a more creative and fun way," said Reese Dolan, junior
"My favorite would have to be Photography. I love taking photos, learning about new properties and ways to take photos, and it is really inclusive," said Paige Connington, senior.
Students can take electives from all the academic departments, but the majority are in the Art, English, and Family and Consumer Science departments. Some popular electives include Creative Crafts, Food and Nutrition, Early Childhood, Foods and Nutrition, and Creative Writing.  A published list of electives is available on the district website.