FBLA successful in regional competition
On Feb. 10, 2022, the Future Business Leaders of America (FBLA) club achieved success in their competition against schools from Orange, Putnam, Ulster, Duchess, and Sullivan counties.
"It's a club [FBLA] where we all come together to learn about different business tactics, leadership skills, and public speaking while participating in different community events," said FBLA Co-Vice President Varsha Jegan.
According to FBLA Co-President Jeter Sison, this was the regional competition and those who placed in the first three places move onto states, which will take place in Rochester in April 2022.
"So basically, we had the spring district meeting (SDM) for District 3N which is mainly based on competitions," said FBLA State Vice President of District 3N Zongyuan Li, who organized and hosted this event. "There are two types of competitions: written and performance."
District 3N consists of all the FBLA organizations in the Hudson Valley.
There are a variety of different events. For written tests, topics such as accounting, financial algebra, business calculations, or business communications are covered. There are also competitions which test your skills on public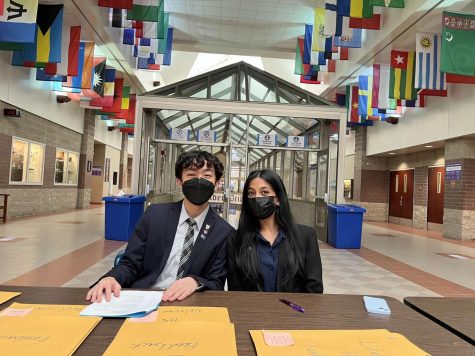 speaking, client service, decision making, or impromptu thinking, all of which are performance based tests.
At the registration table, run by Sison and Jegan, judges from companies and colleges were checked in; each district was given their information; and last minute participants were registered. The judges each have credible backgrounds that give them the expertise to accurately determine the abilities of students based on real life experience, according to Sison.
"Taking part in these competitions really gets you ready for what you're going to face and prepares you for the real world, outside of school," said Jegan.
Students who placed in this competition were Jeter Sison, winning first place in the job interview and business communications section; Khushi Girish, winning first place in client service; Ava Cherian, winning second place in intro to decision making; Diya Mangatt, winning third place in public speaking; Anya Malhotra, winning third place in intro to public speaking; Varsha Jegan, winning fifth place in business calculation; Emily Taveras, winning fifth place in impromptu speaking; and Kyle Torres, winning fifth place in business communications.  
"We built a relationship with other students in the county, like in John Jay and Minisink Valley, and our chapter is excited to see them at states," said Sison.