Mr. Kaste to retire after over 30 years as an educator
After 30 years as a teacher and administrator, Mr. Kaste, Monroe-Woodbury High School's principal, is retiring this month.
Mr. Kaste's retirement was announced to the community on November 2 in an email sent by Superintendent Ms. Rodriguez to students and their families.
"Mr. Kaste has been a valued employee of the Monroe-Woodbury Central School District for the past 15 years," wrote district superintendent Ms. Rodriguez in the announcement. "I thank Mr. Kaste for his years of service and commitment to the students and families of Monroe-Woodbury."
In addition to high school principal, he has served several roles within the district, including the middle school principal and high school assistant principal, according to the email.
Mr. Kaste got his start in education as a music teacher in the early 1990s when he was hired as a leave replacement. Mr. Kaste said his decision to be a music teacher stemmed from his interest in music and the success he had working with children. Mr. Kaste explained that he did volunteer work with little league and soccer and "connected well" with those kids and so he thought that he "had a good disposition" to help kids learn music.
"So when I was in high school, it was the only thing I was really good at, so I would just become a music teacher because I like working with kids," said Mr. Kaste.
As a high school student, Mr. Kaste described himself as an "underachiever" who "could have done much better in school." He said as a teenager he enjoyed sports and hanging out with his friends.
"I liked school, it was a good experience for me," said Mr. Kaste.
After high school, Mr. Kaste attended the Crane School of Music in Potsdam, New York where he was a low brass major and his main instrument was the euphonium. He explained that even though he may not have been a great student in high school, he matured and focused on his studies in college and while attaining his master's degree.
"I don't really recommend being a slacker and underachiever," said Mr. Kaste, "because it closes doors for you."
Despite some detours along the way, Mr. Kaste's career will end where it started–Monroe-Woodbury.
"So my career actually started here in Monroe-Woodbury, as a leave replacement back in the early 90s," said Mr. Kaste, whose first teaching positions included stints at the middle school, Pine Tree and North Main.
Following this original placement, Mr. Kaste was hired in a probationary tenure track position at Dobbs Ferry in Westchester County. He had never considered being an administrator, but Mercy College, located in Dobbs Ferry, was offering an administration certification program at half price tuition for local teachers, so he and a few friends enrolled in the program.
Despite his initial reluctance to be an administrator, Mr. Kaste would eventually apply for and receive an assistant principal position in Sleepy Hollow. Mr. Kaste would stay in Sleepy Hollow for five and a half years before coming back to Monroe-Woodbury High School as an assistant principal. Mr. Kaste decided to move on from the Sleepy Hollow position because he was living in Orange County and the long daily commute to Tarrytown– sometimes over an hour–began to take its toll.
"So, when the position was advertised up here, I gave it a shot and was hired," said Mr. Kaste.
More than 20 years later, Mr. Kaste is retiring, he explained, because he is exhausted.
"It is time," said Mr. Kaste, who explained that he needs to "take a breath and just kind of refine and redefine myself."
The first few months of his retirement will be spent "catching up on sleep", said Mr. Kaste. After that, he said he plans to spend a lot of time gardening. Mr. Kaste said he has a large garden that he looks forward to spending time in. He said he may get involved volunteering in a local youth soccer organization. Mr. Kaste's daughter, a senior in high school, is a soccer player and Mr. Kaste said he'd like to watch her play.
Mr. Kaste said his family supports his decision to retire.
"My family is all on board," said Mr. Kaste, who explained that he and his wife have been discussing his retirement seriously for over a year. "They see how the days kind of wear on me."
Mr. Kaste's wife is also an educator and he said she still has a few years until retirement, but that she's looking forward to him being home more.
"I think she has a list of things for me to do," said Mr. Kaste. "When you're a principal of the largest school in Orange County, you don't get a lot of free time to do stuff."
Mr. Kaste said that as a principal he doesn't always have enough time to do what he wants and the building is always "on his mind."
"In any principal position, there is stress and anxiety because you want to do what's best for the student community and society, and it's hard to make everyone happy," said Mr. Kaste.
One of the joys of the job, said Mr. Kaste is seeing students succeed and make it through high school to college, careers, the military or other paths that students might choose.
"So we try to give you the best experiences and opportunities. So you can figure out what your future is going to be," said Mr. Kaste. "We want your school experience to be the best it can be, we want you to find your niche so you can be successful and get to try some different things."
Working with teachers has also been a highlight of Mr. Kaste's career.
"Watching teachers grow is also very fulfilling," said Mr. Kaste.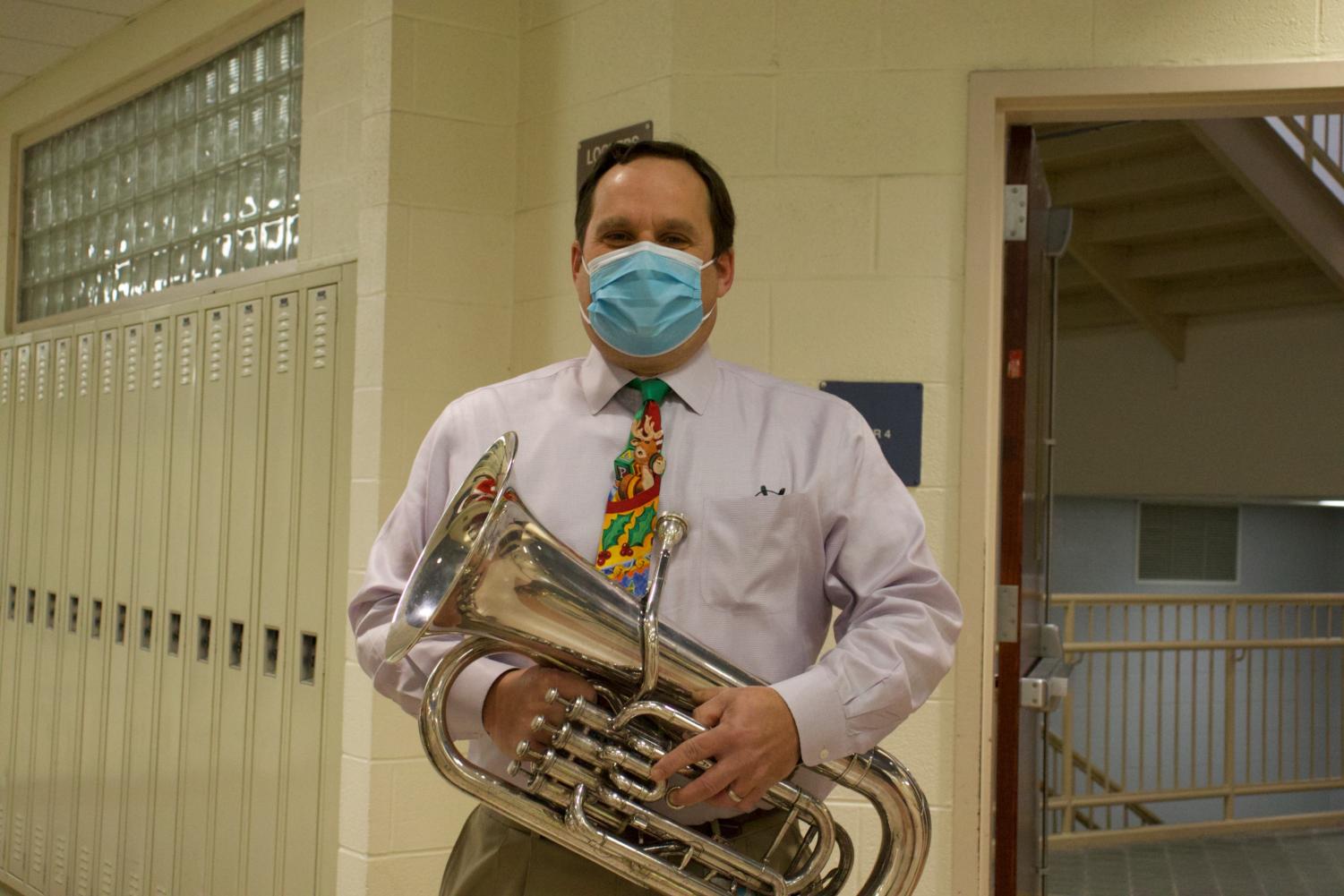 Staff was told of Mr. Kaste's retirement during a faculty meeting held on Google Meet. He estimated that he has been involved with the hiring process of 35 to 40 percent of the staff on screen during the faculty meeting.
Making the announcement during the meeting was difficult, said Mr. Kaste, because he could see many of the faculty that had struggled in their first few years but that he had worked with "to get them to become the great teachers they are today."
"I know that they might not always agree with me, but they respect what I'm trying to do and work with me," said Mr. Kaste. "So the collaboration has been great."
Mr. Kaste explained that even in retirement he will continue to be a resource for the building's faculty.
"I wish I could take them all with me into retirement, but I can't," said Mr. Kaste.
Spanish teacher Ms. Saraceno has worked with Mr. Kaste for over 15 years.
"I'm thrilled for him and heartbroken for me. He was a good mentor for me. I'm going to miss him," said Ms. Saraceno. "I think he cares."
"I wish him the best in his retirement," said Mr. Gardner, a social studies teacher. "He's worked very hard in his career, and he certainly deserves a restful retirement."
After he steps away, Mr. Kaste said what he hopes students and faculty will remember about his time here.
"I've modeled being compassionate and kind, I would like for people to do that as well and be accepting," said Mr. Kaste. "Being kind, compassionate, and accepting are keystones for making things go well."
He explained that some students may disagree that he has been kind.
"I do not like disciplining students. I wish everybody would meet our expectations," said Mr. Kaste. "That is the hardest part of my job."
Mr. Kaste's final day as principal will be Friday, January 28, 2022.
According to the email sent by Ms. Rodriguez, the search for Mr. Kaste's replacement will begin immediately.
"The goal is to have an interim principal in place by early January 2022 to shadow Mr. Kaste for the month prior to his departure," wrote Ms. Rodriguez. It was announced last month that Ms. Hock, the district's athletic director, will be the interim principal.
Mr. Kaste discussed the obstacles the new principal might face.
"In theory, the biggest challenge for a new principal would be understanding the culture of the community and building," said Mr. Kaste, who added that another challenge would be "continuing to maintain rules and regulations regarding COVID-19."
"I mean, we're still having issues," said Mr. Kaste. "Covid hasn't been kind to everybody. And it's hard."
Despite looking forward to retirement, the transition is not without its struggles, said Mr. Kaste.
Before he leaves, Mr. Kaste said that he will focus on keeping everyone on-track academically and working on staffing and scheduling issues.
¨The most challenging thing is saying goodbye," said Mr. Kaste. "I have over 2,400 kids that I consider my kids."