Monroe-Woodbury Took Part in The National Day on Writing and Living Ink in October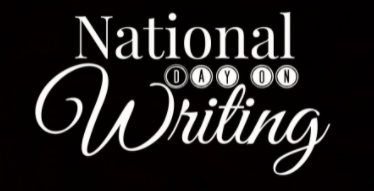 In October, English teachers around the nation brought students together for the National day of Writing.
Monroe-Woodbury was one of the many school districts that participated in this event on October 20 by asking students to reflect on a poem and do some writing of their own during their English period. 
 The National Council of Teachers of English (NCTE) first started this tradition on Nov. 12, 2009. The NCTE said the day is made to help other writers be aware of what they can do or experiment with.  This national day's purpose is to "encourage Americans to write and enjoy and learn from the writing of others."
"I think it's important for students to have time to do what they love," said Ms. Blumberg, an English teacher at Monroe-Woodbury High School.  She also stated that an important advantage of the Day of Writing was that it was "community building."  
Unfortunately, due to COVID-19 restrictions, the festivities of the National Day of Writing were slightly different at Monroe-Woodbury this year, as every student in the school was doing the same prompt. Previous years had varied workshops that students could sign up for ahead of time. 
Although it was different, many students still liked the day in the classroom. 
"It was fun to do, and didn't stress me out like I thought it would," said Chloe Cardona.
Many of the results of the day's writing were posted on social media under the tag #WhyIWrite. Some students' writing from Monroe-Woodbury was published on this website in the Ink Magazine section. Many educators believe that writing is very important to having a good understanding of the English language and should be practiced more often.