Hockey Team Practices in Preparation for Next Year's Season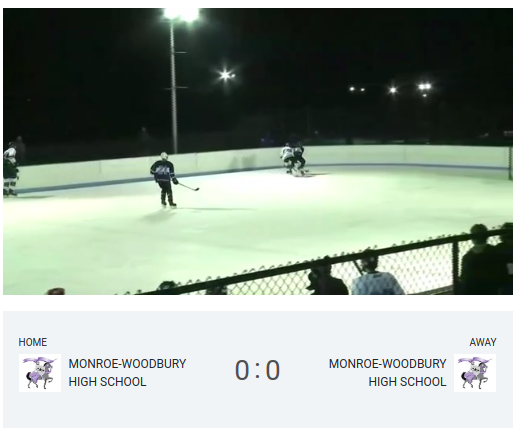 The members of an ice sport team would usually have to worry about the cold and their next game, but for the members of the Monroe-Woodbury High School Hockey team there is now much more to worry about.
The introduction of COVID-19 to a sport organization is an obstacle, one that the members of this hockey team have overcome to continue practicing despite not being allowed to play games.
The Monroe-Woodbury High School Hockey team had to adapt to the new COVID-19 guidelines. These challenges are only the tip of the iceberg for the hockey team. For example, they must also scan a QR code which brings them to a screening they must fill out, must wear masks even when wearing helmets, and change in designated areas.
"We have moved our practices to Bear Mountain Ice Rink which is an outdoor facility and makes it safer compared to an indoor facility," says Tom Natoli, head coach for the team. Natoli then said, "Upon arriving at the rink, the coaching staff conducts temperature checks for each player."
The COVID-19 guidelines have affected both the coaches and players. Despite this, the players and coaches have been adapting.
"The coaches have been very strict about making sure we follow protocol. Although these guidelines are annoying, the coaches are doing this with our best interest in mind," said Kevin Duffy, a sophomore on the hockey team.
Another player, Eddy Dovgan expresses his opinion, "The coaches adherence to the guidelines is strict. They want us out there and playing, but still be safe." 
According to Dovgan, it is an important place that brings people together and allows new people to be friends. Hockey creates a legacy through important connections and bonds, it helps forge characteristics and values.
Natoli said,"I do believe that the COVID-19 guidelines have affected the players from a social/emotional standpoint, especially the fact that they will not be competing this season. However, the kids are so happy to be out of quarantine and back on the ice with their friends." He continued, "things such as how to handle adversity, how to be a good teammate, the importance of hard work, how to be a role model, how to pick yourself back up after defeat, how to manage many different personalities, how to manage time and a schedule, and how to communicate, the list goes on but it all comes back to why hockey is important."
Hockey is a social sport played on ice. It is important to the players and coaches to make these social connections. "The hockey team at Monroe Woodbury is a family," says Coach Alessandrino.  In addition, " The MW hockey team has been running a winter classic hockey game for children with cancer for 9 years, long before other teams decided to do it for the community," continues Coach Alessandrino who has been coaching since 1980.
Despite the importance of hockey to the team and the strict following of the guidelines, games are still not allowed. The seniors in particular are left out in their last season of hockey.
In New York State, ice hockey is considered a high risk sport; while in many other states, it is considered a moderate risk sport, which refers to the risk of catching COVID-19 from the sport.
Players Dovgan and Duffy seem to agree on the fact that hockey games should be allowed with proper safety precautions in place. 
Natoli does see an importance in being left out of the hockey season. "My heart breaks for the seniors but I do respect and understand the district's main focus of safety and maximum participation and the decision to conduct the Winter season as an in-house program," he said.
Though the hockey team cannot play this season, they look forward to the next season and will continue to practice under strict guidelines until then.