New Streaming Service Will Share M-W Events with the Community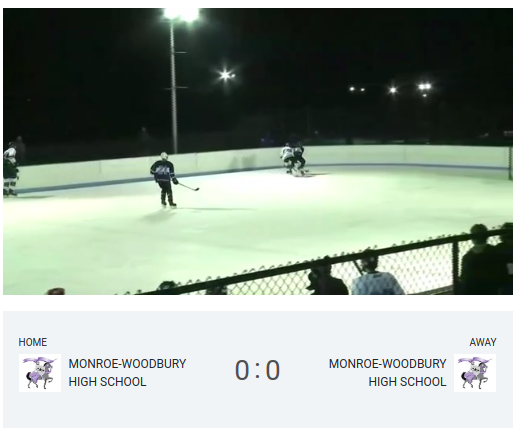 The Monroe-Woodbury Central School District is partnering with LocalLive, the world's first live broadcasting service, to launch a livestream service in order to provide families as well as community members free viewing access to sporting events, concerts, graduations, and other district events from their homes. Monroe-Woodbury is the first school in Section IX athletics to partner with LocalLive.
LocalLive will place three cameras at Monroe-Woodbury High School. These will be on the main field, in the main gym and in the auditorium. There will also be a mobile unit, which will allow live access to events and activities throughout the school district. Each event will be staffed by professional producers who will manage the cameras and oversee the livestream.
"The mobile unit will allow us to stream games at other venues such as the pool, middle school gym, other outdoor fields, and off site venues such as a hockey rink or bowling alley," said Lori Hock, the district's athletic director. 
Hock also said, "Of course we have multiple events (sometimes up to 10) occurring on any given day and we will not be able to stream every game.  We will be devising a schedule that provides equity across the district."
The channel for viewing is linked on the district website. 
Live streaming will continue after COVID-19 ends. This is because there are many people who cannot travel to the games, concerts and other events. This is a great way for them to continue to be a part of the district activities.  
Cameras will not be on during non-event times, nor will they be used for security purposes. However, all events are available for public viewing, so they will be available for law enforcement if something were to be caught on camera during an event. 
According to Bhargav Vyas, the Assistant Superintendent for Compliance and Information Systems and Data Protection Officer, the current annual cost for this service is $21,700. The district made the purchase through Putnam Northern Westchester Board of Cooperative Educational Services in order to get BOCES aid and the total cost will be significantly less. 
According to Hock, "A potential outcome could be that some spectators may be inclined to watch from home rather than attend in person."
Hock wouldn't necessarily call this a negative, because she said it's nice to have options and to be able to offer this service to family members and friends throughout the world.
"We are building an even stronger M-W following," said Hock. 
Girls Varsity Basketball Game
As for student privacy issues, LocalLive is in compliance with Education Law 2-d and has signed the M-W Data Privacy Agreement (DPA). Every year in September, the district sends parents and guardians the M-W Acceptable Use Policy, which includes a specific agreement for students to be included in the district's media and publicity efforts.
If parents have indicated that they do not want their child included in district media, the district will not be able to broadcast that event live.
LocalLive will also be supporting the district in creating a broadcasting club, in which M-W students will have the opportunity to join. Students will receive training in using LocalLive technology, and will be able to take advantage of a simple plugin option for play-by-play announcing.
The games are available to view anytime at https://events.locallive.tv/school/monroe-woodbury-hs.