High School Students Give Back to the Community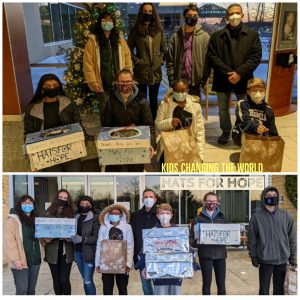 Students participated in many charitable events this holiday season to raise money, lift spirits and to help people in need.
Macy's annual Believe campaign has been inspiring people to go to their website to write a letter to Santa and donate $1 to the Make-a-Wish foundation so they can raise $1 million dollars to those kids in the program that are isolated during the holidays to brighten their spirits.
Our school district donated 1,400 letters last year and hopes to donate more this year. The Macy's Annual Believe Campaign lasted from November 29 to December 5 and for every letter that they received online or in store, they doubled the donation to $2 until they reached their goal of $1 million. Macy's Annual believe campaign was able to raise $2 million dollars for the Make-a-Wish Foundation for the holidays.
Monroe Woodbury's  S.A.D.D club president Julia Ingram along with the other members have been working hard on this project.
"I think it is a great event that all students can easily participate in, to donate a lot of money to a worthy cause," said Ingram. "This year though, due to COVID, the process was online. S.A.D.D. has been doing the Make-A-Wish Letters to Santa campaign for many years, and it is a tradition we would love to continue!"
The Kids Changing the World club took part in Hats for Hope, a program started by a woman named Colleen McCarthy who faced Stage 4 Inflammatory Breast Cancer. Throughout her journey of her treatments and chemotherapy, she took some time to know other patients that were there with her and she was inspired to do something for those patients that were battling the same challenges that she was. She then created the Hats for Hope program to give warm winter hats to cancer patients who have lost all of their hair so they can stay warm during the winter. Colleen unfortunately died in February 2015, but her charity still lives on today as people donate hats to cancer patients through her organization including our school district. 
The Art Guild in our district is being aided by our NAHS cabinet members to participate in a "Love your Heart initiative" which is where students draw the human heart and insert images, quotes, and drawings to represent who they are as a person and as an artist. This project was made in an attempt to create a display case in each school to make each one of our students feel like our school is a safe environment for all types of different people.
The Aurora Science Club hosted an ongoing food drive for the holidays to give food to pantries and families in need. The foods that they collected were dry cereal, rice, pasta, canned vegetables/canned goods, peanut butter, beans and much more. The food drive took place between December 15 and 18, so our students had an opportunity to donate to those in need for the holidays. 
Interact adopted two local families in need to give them the things they need for the holidays. Both families needed items such as pants, toilet paper, shoes, hats, and things to cook with such as pots and pans so they could get by the holidays. Interact was able to successfully donate all of the items to those families so they could celebrate the holidays. Interact has also participated in a canned food drive to donate to Sacred Heart's food pantry.
One of the card writing campaigns Interact has participated in is called "Letter of love – Love for our elders" which will be linked here https://loveforourelders.org/letters where members of the Interact club wrote letters to senior citizens who are isolated in their homes due to COVID-19 and therefore cannot see their loved ones during the holidays. The letters give them something to read to brighten their holiday spirits. 
The other card writing campaign that Interact participated in is "A Million Thanks". The card writing campaign invites people to write letters to active troops in our military who may be deployed or unable to see their loved ones during the holidays. Interact has participated in this event by writing letters to our military personnel.