Monroe-Woodbury Students and Staff Take Part in Black Lives Matter Protest at Mill Pond
In response to the killing of George Floyd by police officers on May 25th, years of police brutality, and the history of systemic racism in the United States, protesters gathered in Monroe on June 1. The protest was organized by two Monroe-Woodbury alumni who created a Facebook group for the event.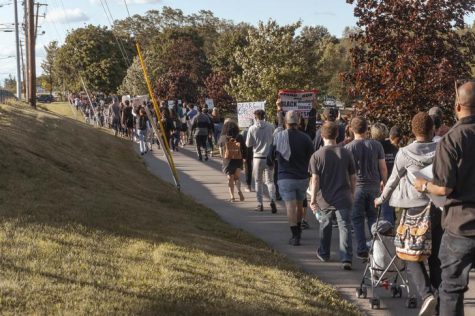 Protesters marched at the mill ponds while holding signs expressing support for Black Lives Matter and condemning police violence.
The Monroe march started in the wake of numerous other protests in the country, beginning in Minneapolis after George Floyd's death. Protests have since begun outside the walls of the White House, in all 50 states, and in 18 other countries around the world.
The protest was organized over social media, with the organizers making a Facebook group. Others shared news of the protest on Instagram, bringing it momentum and attracting many more people to attend. Hundreds of people came to participate in the protest, bringing homemade signs saying "Black Lives Matter," or names of police brutality victims.
Protesters also repeated the names of numerous black people killed by police, primarily George Floyd and Breonna Taylor.
After fully walking around the ponds once, protesters gathered on a corner near the center of town. Here, Black Lives Matter members gave passionate speeches about the state of black people in America, before finishing the protest and thanking everyone for attending.
Before the protest, concerns about violence and counter-protesters circulated around social media. However, the march remained completely peaceful, and few counter protesters attended. These counter protesters walked or drove by the area repeating slogans in opposition to Black Lives Matter.
The Monroe Police Department later released a statement thanking the protesters for having a peaceful demonstration.
The four former officers involved in the killing have since been charged. Derek Chauvin, the officer seen in the video kneeling on Floyd's neck, will be tried for second degree murder.