Governor Cuomo Provides Update on Coronavirus Outbreak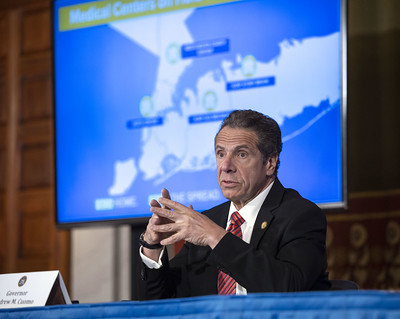 Andrew Cuomo, Governor of New York State, holds daily press conferences during which he updates the public on the status of COVID-19 in New York State. Typically, Cuomo gives a presentation with the aid of slides in which he discusses various topics surrounding COVID-19, such as the number of cases, deaths, hospitalizations, and any new Executive Orders he has passed.
Following this presentation, reporters ask Cuomo questions. Most of the conferences have taken place in Albany, with two exceptions. One was held in Buffalo, and another on Long Island.
The first case of COVID-19 was confirmed in New York State on March 1, 2020. As of April 24, 55 days since the first confirmed case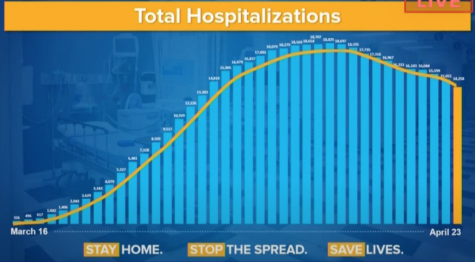 , the total number of cases of COVID-19 in New York State has reached approximately 263,000. The total number of deaths from COVID-19 in New York State has reached nearly 16,000.
Governor Cuomo cautioned that these numbers only account for cases and deaths occurring in hospitals and nursing homes. Illness and deaths occurring in homes or elsewhere are not included within these statistics, so the numbers are likely far higher. The results of antibody testing involving a random sample of 3,000 people throughout the state appears to support Governor Cuomo's statement.
This survey indicated that 13.9 percent of New York State's population are, or have been, infected by COVID-19. This percentage would translate into 2.7 million infected people state-wide, as opposed to the 263,000 confirmed cases. Cuomo did stress, however, that the 3,000 people in this sample were those shopping at grocery stores and box stores during the day. This sample could possibly have excluded essential workers and those who are too sick to leave their homes in order to shop.
This could potentially mean that the projected infection rate of 13.9 percent based on this sample, is an underestimate. 
In order to mitigate the spread of COVID-19 in New York State, Governor Cuomo have put into place the following policies:
All schools are closed until May 18, but the governor will update this, if necessary, in one week

As of March 19, Cuomo issued a stay-at-home order for everyone except essential workers

As of April 17, everyone must wear a mask or face covering while in a public area in which you can not reasonably stay six feet away from other people

All New Yorkers who have registered to vote will receive a postcard in the mail allowing them to request an absentee ballot, so they can vote remotely in the upcoming June 23rd primary if they do not wish to vote in person

New York State now allows citizens to get a marriage license online, and online marriages can be performed by an official 

Restaurants are restricted to take-out only

Grocery stores must enforce social distancing between customers by limiting the number of people allowed in the store at one time
As of today, there is no concrete date to begin loosening these restrictions. Cuomo stressed that it is important to coordinate any reopening with the surrounding states. However, recently, Cuomo stated that modifying these restrictions would most likely take place on a regional basis within the state. This means that regions within New York State with the lowest infection rates would begin to reopen first.
As a result of these policies, the number of hospitalizations, intubations, and deaths due to COVID-19 plateaued, and have been steadily declining since. Cuomo did express concern that the number of new hospitalizations due to COVID-19 has plateaued at a high number, between 1,200 and 1,300 daily.
Due to the state order to stay home for non-essential employees, many people are either not allowed to work, or were laid off as a result. This has caused the unemployment rate in New York State to increase drastically.
This economic change has resulted in a $13.3 billion, or 14 percent, revenue decline for New York State. Governor Cuomo believes that the federal government needs to provide financial assistance to state governments so that cuts to police, firefighters, education, etc. can be minimized.
Senator Mitch McConnell said "I would certainly be in favor of allowing states to use the bankruptcy route. It saves some cities…"
Cuomo responded to McConnell's suggestion, calling it a "really dumb idea," citing the fact that it would signal turmoil to the markets, jeopardizing the country's economy.
Cuomo believes that availability of data is critical to reopening. This would require a major increase in the use of antibody and diagnostic testing. Cuomo visited the White House on April 22, to request that the federal government take responsibility for managing the international supply chain for swabs and reagents, which are necessary for testing.