Review: "Destiny 2": A Great Game to Play With Friends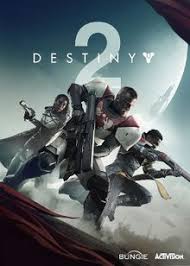 "Destiny 2" is a first-person looter/shooter with a multitude of weapons, loot, and enemies. It is a free-to-play game on Steam.
There are three main modes to play in "Destiny 2." These modes are Strikes, Crucible, and Gambit. Strikes are small player vs. environment missions with individual parts in each. There are also harder Strikes called Nightfalls. Crucible is a player vs. player mode, where you fight other guardians for glory and valor. Gambit is a mix of PvP and PvE. It is a player vs. player vs. enemy game mode. In this mode, two opposing teams of four race to kill enemies and defeat a boss as quickly as possible. Every so often, a portal opens, that allows a player on your team to jump into the enemy's arena, and hinder their progress. All three of these modes allow you to acquire better weapons and armor. They also help give you Power.
Power is the main measured stat in the game. All guardians start off at 750 power. They must then play the game to get to 900 power. This is when the more difficult part kicks in. At 900 power, the only way to gain more powerful gear is by doing activities with powerful rewards. These activities are usually very simple, such as playing four crucible matches. This goes up to 960 power. At 960 power, you hit another wall. This is the Pinnacle power grind. Pinnacle gear only drops from the most difficult activities in the game. These include Nightfalls, Raids, and Dungeons.
Raids are the most difficult and rewarding activities in "Destiny 2". They require the commitment of a team of six guardians to beat a series of encounters and solve puzzles. Dungeons are scaled-down raids that require three people. They also involve the team-work and puzzle-solving of raids. Nightfalls and the Ordeal are Strikes with a timed scoring system. They will give you better rewards with a higher score.
This is the second game in the Destiny series and takes place when The Tower, the main social space, is invaded by the Cabal, an aggressive alien race. The main villain of the Red War campaign Ghaul has taken control of The Traveller. The Traveller is a supernatural artifact in the sky that grants the player's character, their Light. Player characters are called Guardians. The Light is a power used by Guardians that allow them to come back to life and wield elemental abilities. The Traveller is taken captive by Ghaul and the character is left powerless. The player character will then take back their Light in this campaign. There are two other campaigns that come free. These two campaigns are the Curse of Osiris and the Warmind campaigns. In my opinion, Warmind is much better than Curse of Osiris.
Currently, "Destiny 2" is in the Season of Dawn. This Season, a famous war hero is coming back into the Destiny 2 universe, Saint-14. Seasons are three months long each and there are usually four per year. Shadowkeep and Season of Undying were the previous seasons. Shadowkeep is the newest large-scale expansion, where big changes were implemented. Forsaken was another one of these big expansions. These expansions need to be bought and do not come free. The Seasons from last year are now free though with the introduction of the free to play nature of the game. This includes Season of the Forge, Season of the Drifter, and the Season of Opulence. The corresponding activities to these seasons were the Black Armory, Reckoning/Gambit Prime, and the Menagerie. 
It's an exciting time to jump into Destiny 2. There is so much free content, a new season, and a new event. This event is the Dawning. It is a holiday-themed event that is free to all players. Destiny 2 may seem a bit confusing to jump into, but there are numerous Youtubers and sites that can help with a puzzle, activity, or just playing the game. It is a very worthwhile experience to join. The raids are one of the most fun activities in any game, with a good team.
I would recommend this game to everyone, but there are some issues. You need a decent computer to run Destiny 2. An old laptop is not going to cut it. A decent desktop or laptop should do the trick. If you're on consoles, such as Xbox or PS4, this isn't a problem.
There are so many activities to do with your friends, and you don't have to pay a dime for some of the best things in the game. The best part is the fact that the game is getting consistent three-month updates and changes every week for season owners as well. Destiny 2 will last a very long time as a live service game. It's also a very high-quality game published by the makers of the infamous Halo. It is definitely worth trying, and I consider it to be one of the best games right now.
I give this game a 9/10. While it has some small accessibility issues and some balance issues, it is definitely a triple-A game, worth your time.