Harlem Wizards game raises funds for the community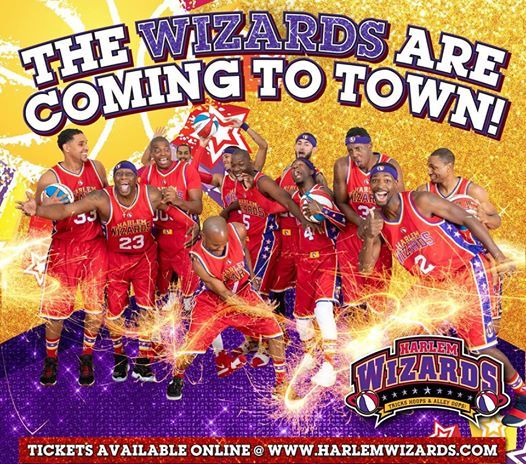 Jared Fierman, Contributing Writer
April 30, 2019
Last month, Interact Club sponsored the Harlem Wizards basketball game fundraiser, bringing crowds of all ages.
The Harlem Wizards involved their audience by incorporating student, families, school clubs and teams in the event. The "Wiz Kids", a group of approximately 40 young children ages 6 to 12, joined the Harlem Wizards on the court. Families from the community were encouraged to add to the total profits of the fundraiser for their community and other good causes.
"This fundraiser raises large portions of money to go back to community events and school projects," said Dwayne Simpson, better known to some as Harlem Wizards player Swoop.
In addition to cheering during the game, students helped out at the event: they ran concession stands for Harlem Wizards merchandise, snacks, drinks, and lotteries.
The high school voice ensemble performed the National Anthem before the game.
"Even with our small group we were given great applause by the audience," said voice ensemble member Elisabeth Rivera, remembering the audience's enthusiasm for the event.
The Harlem Wizards come from all around New York. The players include Road Runner, Sky-Walker, Sarge, Miles High, Kasper, and the new team manager, Swoop. Monroe-Woodbury played against them with their "Dream Team" consisting of 23 teachers, with four teachers from Monroe-Woodbury High School: Mr. Schiff, Mr. Tierney, Ms. Cunningham, and Ms. Santoianni.
The teachers think the excitement, the enjoyment, and the humor created a "comfortable atmosphere in front of a large audience," said Ms. Santoianni.
The teachers playing on the "Dream Team" believe the game went smoothly. They feel as though the Harlem Wizards were putting on a good show for students and families.
While the teachers said they thought a few practices to get a hang of the event might have been helpful, they were still happy to be part of something that "brought the community together to reach one final goal," said Ms. Santoianni.
The Harlem Wizards thanked everyone for attending their fundraiser while getting to do what they love the most. The audience gave appreciation to schools and teachers for their participation in the game.
The basketball game was not a competition, but a way to give the community "a great experience while raising money for game-changing events", said Ms. Cunningham.