Students find humanities program a worthwhile experience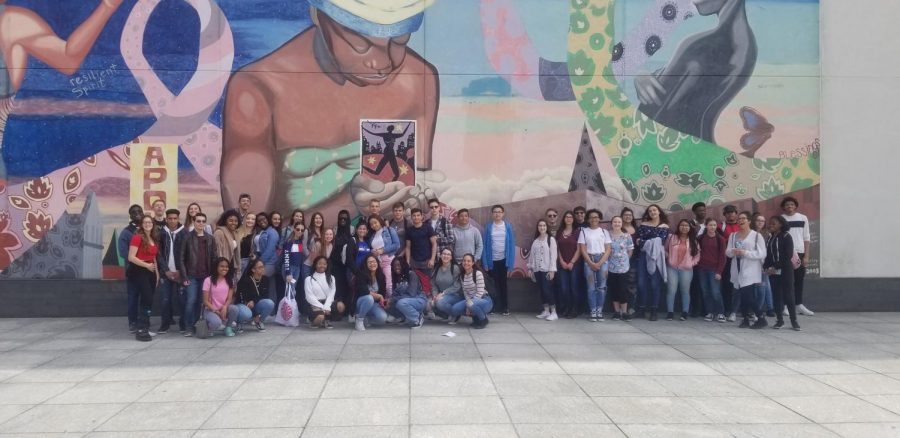 Madison Green, Contributing Writer
April 30, 2019
Curious students looking for an elective program that offers unique opportunities are in luck: The humanities program has been offered at Monroe-Woodbury High School for several years now and is available to freshmen, sophomores, and juniors.
According to the social studies and English elective pages on the Monroe-Woodbury High School website, Humanities is a course in which the social studies and English departments "offer an opportunity for interdisciplinary study through the integration of social studies and English courses which facilitates in-depth learning and potentially improved academic performance."
"Students are grouped in one of the two-grade level cohorts and experience these classes together in their schedule. The program provides an additional lab type experience on alternate days in the high school cycle. The 'conference' period, a smaller class, allows teachers and students increased time to deepen their learning by providing time for writing workshops, writing conferences, research, and integrated projects that enhance the learning opportunities of the courses."
Junior Anjolie Riverso has taken the humanities courses since she decided to join the class for her freshman year.
"[The humanities teachers] came in and gave a whole presentation," said Riverso, "talking about how English and humanities would go more in hand, and hands-on, and you could do projects, so I kind of just joined for that reason."
Dylan Nytko, another junior who has taken the humanities courses, said he joined because "my brother was in it, and then he said it was really fun, and it helps you get into honors and AP classes, so I thought it was a good idea."
Junior Jasmine Johns has also taken the humanities courses.
"I thought that the humanities program would give me a better understanding of both English and social studies," said Johns. "Not only would I have an extra class to take, but it would improve my grades in two of my core classes, and making the connection between those two subjects really improved my grades overall."
"I like how you get to see everything in more detail," said Riverso. "You see everyone's viewpoints, so then maybe you can change your opinion or get new ones. Certain things you normally wouldn't talk about come up and you see everything differently."
"I like the teachers," said Nytko, "and how the class is organized."
"I like the fact that we're able to get a distinction for what we do for college," said Johns,  "so I'm going to be able to get credits because I took it this far, so I'm going to be able to get credits this year for college, which is definitely going to help."
"There's no way that it couldn't benefit you," says Johns. "You're making friends, you're meeting new teachers, and that can help you."
Joseph Melillo, another freshman humanities student, said he joined because "I thought it would be fun and interesting."
Melillo said his favorite part of humanities is "pretty much everything, except for the essay project." He also likes "the group of kids" and how "the teachers work together."
Ms. Caruso has been the 9th-grade humanities English teacher for 5 years.
"When I first heard about it," said Ms. Caruso, " I thought it captured all the things that I was kind of thinking about when I was a kid."
Ms. Bleakley is the freshman humanities and Global History teacher and this is her fifth year working with Ms. Caruso.
"There was an opportunity to look into the program," said Ms. Bleakley, "I went to Oceanside High School down in Long Island, and I liked what I saw, and I wanted a little change of my curriculum, because there was a lot of things I wanted to do that I didn't have time to do."
According to Ms. Caruso, students should join the course if they have "come this far in their education and felt like I did, like there was a missing piece, or just has a natural curiosity and really wants to expand on their studies."
"It's a beautiful marriage between English and Social Studies," said Ms. Bleakley. "You have two teachers that are core teachers working together to give you a better education."