Both varsity soccer teams win state championships
In a rare event, both Monroe-Woodbury boys and girls varsity soccer teams won the New York State championship on Sunday, November 11.
The rarity of even one team winning states made the victory even more gratifying to the players.
The win came as a surprise even to some of the athletes, who were not expecting a victory.
"It's a great accomplishment," said Chris Ryan, a junior on the boys varsity team. "I'm proud of my team."
The players were elated that their work culminated in a victory for the district.
"It was such an incredible feeling," said senior Colleen Kinsella via email. "My heart was racing and I had tears of joy when those final whistles blew."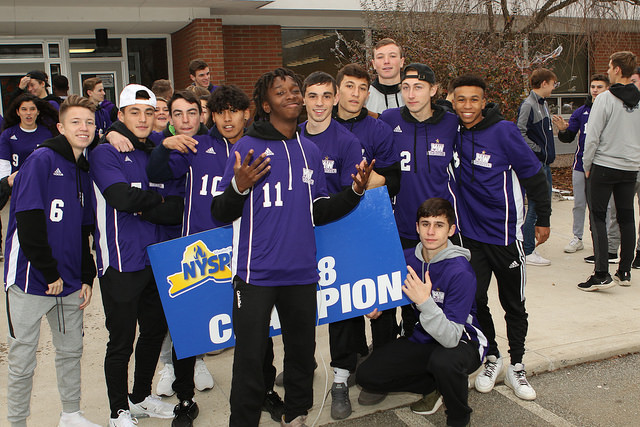 This tournament was Kinsella's last at Monroe-Woodbury.
"Winning states to end my high school season was just such an unbelievable feeling that I won't ever forget," said Kinsella.
Coach Clearwater, of the boys' varsity team, said he was encouraged by the work done by his players.
"With enough hard work and team spirit, anything is possible," said Coach Clearwater.
Coach Clearwater said it was the first time in 20 years, that he knew of, that both varsity soccer teams have won at New York State competition.
Kinsella was hopeful that Monroe-Woodbury could have similar luck at future competitions.
"I honestly think we can do it," said Kinsella. "Monroe has so many athletic and talented kids and the program just keeps on growing."
Students were excited about the teams' victories.
"I'm really proud that they won," said sophomore Damyan Bonilla. "It'll show other schools that we're actually something."
After their victory at the state championships, both varsity teams went on victory tours to the elementary schools, where they were greeted by crowds of young children waiting to congratulate them.