Monroe-Woodbury High School Library Hosts the Scholastic Book Fair
The Scholastic Book Fair was brought back for the third time to Monroe-Woodbury High School. This year's book fair went from March 13 to 17.  Students were able to buy books in person or online. Students were also able to fill out a "#booklove wish" slip so they can be entered in a drawing to win a book. 
''The first book [fair] we have was in 2020, right before lock-down. We did well sale-wise. When lock-down came we had to close the fair and clean up  during the summer,'' said librarian Ms. Sherman. 
''We love every opportunity to sell many books, we are always delighted. We want to provide books for people as best as we can'' said librarian Ms. Speer.
Students were taken to the book fair during their English classes. There was quite a variety of books to choose from; science, romance, fiction, nonfiction, graphic novels, and more.
"It was pretty cool; a lot of kids came," said freshman Kris Kuibida, who bought a copy of "The Hate U Give" by Angie Thomas.
Other students were less enthusiastic.
''It was alright," said Andrew Ferdico, a freshman. "I browsed for a lot for books but didn't buy any in the end.''
Many teachers also took the opportunity to buy books for their classrooms.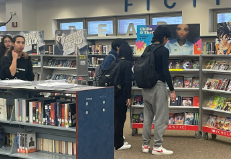 "Several teachers had bought things. Some teachers bought books for their classroom libraries, and some teachers brought books for their children,'' said Ms. Speer.
The book fair did not just sell books. There were also small toys and posters available at the checkout.
According to Ms. Speer pens, erasers, and the posters "were very popular.''
Ms. Sherman added, ''We had a lot of books that were good for sales. The invisible ink pens were popular, the chocolate calculators, and the gummy bear erasers were also, too."