The Social and Racial Justice Student Union Organizes an African-American Recognition Week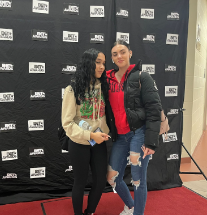 African-American Recognition Week was celebrated at Monroe-Woodbury the week before February break, running from February 13 to 17. It was organized by the Social and Racial Justice Student Union (SRJSU). 
This is the first year the SRJSU hosted this event. The themes for this year were as follows: Monday: Rep your Person Day: Wear a t-shirt that honors your favorite Black artist, singer, group, or influencer; Tuesday: Pan-African day: wear your culture's traditional clothing or wear the colors black, red, and green; Wednesday:  Dress your best day! Dress for the BET Awards; Thursday: Show your love for black culture; and Friday: Represent your club day: Wear your club's gear or rep SRJSU gear.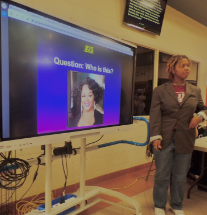 There was also a game show on Thursday  outside the cafeteria and a poetry montage posted at the beginning of the week.
Ms. Balousek, co-adviser of SRJSU, said that the trivia games were one of her personal favorites.
The poetry montage featured student's recordings of poetry or speeches, created by others or themselves.
"We are really hoping that this becomes a trend. Hopefully, people will realize that they don't just need February to celebrate Black History and voices. To share their lives and experiences all year round. Hopefully, everyone gets excited from this little project and maybe even replicate it in their classes and celebrate the different voices," said Ms. Nelson, co-adviser of SRJSU. 
Besides African-American Recognition week, the advisers of SRJSU believe that everyone should celebrate and honor different cultures and voices, without it just being for a specific time of the month or year.
"Our club tries to honor all kinds of voices and celebrate all people," said Ms. Nelson, "but other people in the school can do things as well. We just hope that this may inspire other people to have their group or team do something similar. Or even in the classroom, to celebrate different people. Because there is a lot of work that goes into each event. So we wish we could be doing something every week, but that is a lot," said Ms. Nelson. 
"We would like to see it for all sorts of things. Not just Black voices. Every voice. But is it hard to organize it all together," said Ms. Balousek. 
Ms. Balousek said she thinks its important to not only spend African-American history month reflecting on the slave narrative and other historical atrocities, but to also spend some time "to just have fun with current Black voices." She explained that it's important to remember that the tragic moments learned about in history class is "not the entirety of black culture."