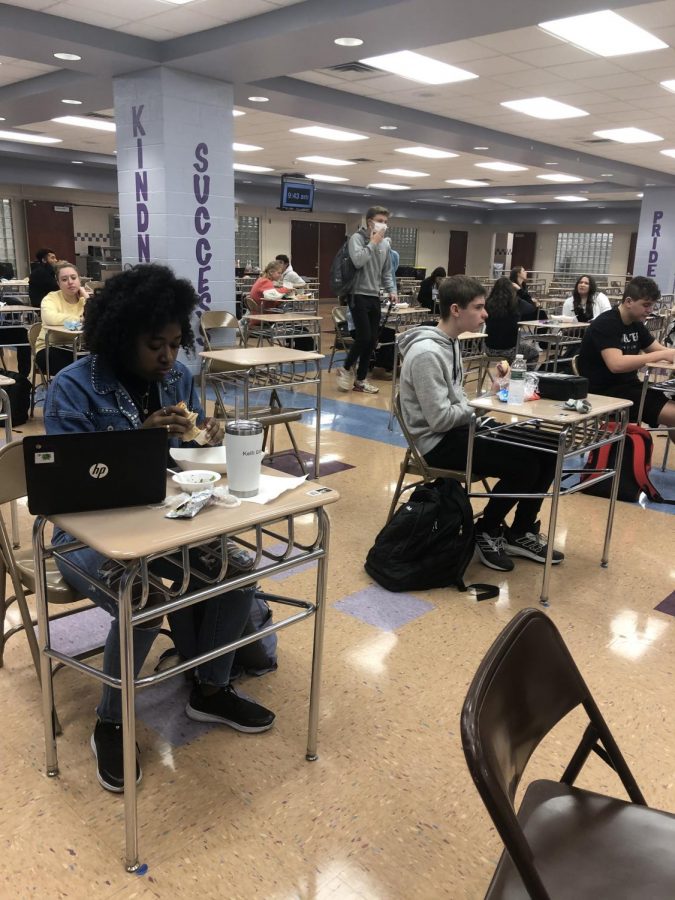 Now that it's been over a year since the COVID-19 pandemic radically changed our way of life, some Monroe-Woodbury students reflect on their experiences over the last year.
What has been the biggest change to your life in the last year as a result of COVID-19?
"After COVID-19 hit us, the biggest change in my life was seeing so many people scared. I believe that there will be many social and physical troubles as we progress back to a normal society. I also believe that there will be many people using COVID-19 as an excuse even after we gain control of the virus and all get vaccinated," said Francis Heim.
"The biggest change in my life from quarantine would be not seeing my family as often as I used to and being refrained from doing things I enjoy like live concerts," said Danielle Diaz.
"I would say that the biggest change in the last year would have to be how much my relationships with peers have changed, even more than quarantining itself. Throughout the course of the virus and political/social movements and opinions being expressed more than ever in my lifetime, I have really established my own views and have watched how my relationships with peers has drastically shifted throughout the pandemic. And…I feel like people, and consequently my relationships with people, have drastically changed," said Jared Anderson.
What are you looking forward to the most after the pandemic ends?
"I'm looking forward to seeing family that I haven't been able to see ever since the pandemic started and being able to hangout with my friends again," said Clarianny Uribe.
"Not wearing the mask. Being able to see my friends smile. I have found that so many of my friends' faces have changed and grown through this year. A few days ago I saw my friend without her mask and I was so taken back by her smile, she's one of my closest friends and I didn't even realize she got her braces off," said Cassidy Patterson.
"I am looking forward to just doing normal and fun things without any fear of illness," said Azure Bolling.
What has been your biggest challenge in the last year?
"Losing family and people that I love due to COVID," said Freddy Ocasio.
"Trying to keep a calm, relaxed mind because I haven't gone out much in fear of catching the virus so I'm just at home all the time and just being in the same place for months on end without any change kinda gets to you after awhile," said Dan Rubio.
"Karate, I was one step from my black belt and since it's a contact sport we trained online for a whole year so it was not/ is not the same," said Nylah Broughton.
How does it feel to have lived through this important part of history?
"I feel like I've gained some perspective on life and that I've taken the outside world for granted. I'm just waiting for my grandkids to ask me about the great 2020 pandemic I lived through," said McKenzie Verra.
"Boring. To be completely honest you'd think living through a pandemic would be this insane thing, but in reality it has just been sitting at home, The media getting everybody insanely paranoid, which I mean is normal. It does affect your life but humans adapt," said Joseph Gonzalez.
"Unreal because in the moment everything feels like a blur," said Yasmine Peralta.
What is something you wish you had known on March 12, 2020?
"I wish I knew what stocks to get," said Taysean Grosvenor.
"I'm fine with not knowing how long it would last, thinking shutdowns would send soon made the beginning of quarantine fun," said Thomas Felmley.
"On March 12, 2020 I wish I would've known that I wasn't going to see my friends for many months," said Paige Trumper.
What's one thing that you've learned about yourself in the last year?
"Without proper human interaction you may not be the same person you were before the pandemic, as opposed to now where you can partially go out and interact with people but can still do things limited when you can't really do it at full capacity still," said Raaid Khan.
"I'm very creative. I made my own diet and workout plan and gained 20 pounds of muscle since May of 2020," said Owen White.
"That I rely on other people too much so I learned how to be more independent," said Emma Mattison.
What's been the hardest part about school during COVID-19?
"The hardest part about school is staying motivated and treating it as if it's a priority. I find myself getting caught up with other things in life that I feel is more important to me than school is," said Freddy Ocasio.
"Finding the motivation to complete assignments and join Meets," said Kaily Paralta.
"The hardest part has to be the Google Meets, not everyone is able to learn through them and sometimes it's very confusing and frustrating," said Clarianny Uribe.
Has there been any personal benefits as a result of time spent in quarantine?
"I got a job, which is helping me learn how to be self-sufficient," said Michael Scerbo.
"COVID hasn't helped me in any way," said Thomas Felmley.