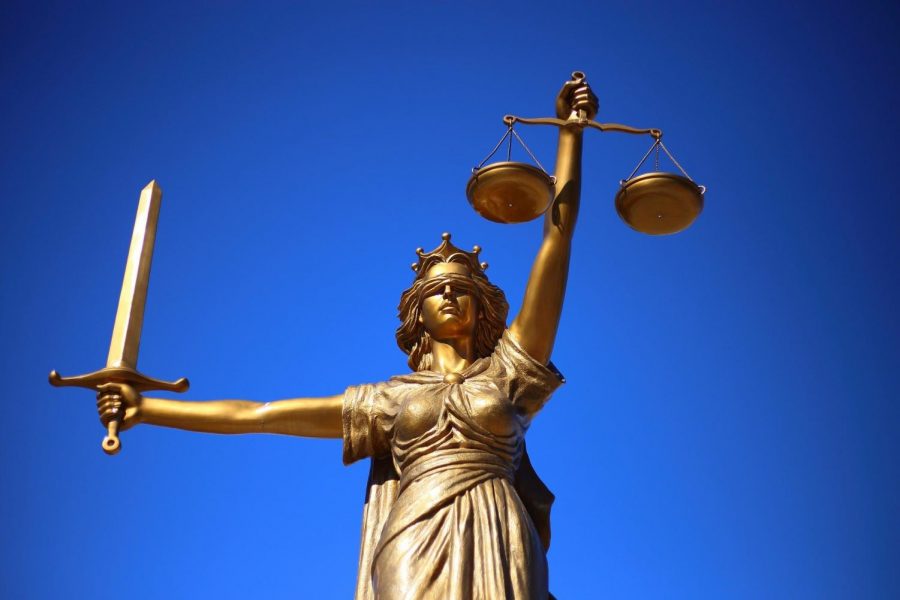 Monroe-Woodbury High School's Mock Trial will participate in the Spring Trial on April 10. Due to the limitations of COVID-19, the trial will be held through Zoom. 
"The Spring Trial is where we are given a case, this year it is a civil case, and we divide our witnesses and lawyers in the club into Defense and Plaintiff teams and give them roles based upon who would fit the character of a witness or who would question a witness the best." said senior Vanessa Guaraca. "For example, this case has financial experts on both teams, so people who are good with math and numbers were able to fill these roles."
Throughout the course of practices, the team learns about the justice system and courtroom etiquette, continues to optimize communication skills, and establishes the ability to form a legal analysis. This year, the students have learned to overcome the setbacks of a strictly virtual courtroom. 
"The trial is going to be held online for the first time," said Guaraca. "There are going to be four rounds. If we win, there are finals, advancement to a regional competition, and state competition."
In the past, Mock Trial has taken place at BOCES in Goshen. Over the past few months, the team has been working with lawyers to prepare for the next trial. The first and second round will take place on April 10, followed by the third and fourth round on April 18. 
"We are to give a Civil Case this year and have to be the Plaintiff or Defense for a trial." said Mr. Verboys, the club's adviser. "We are to give testimonies for three witnesses for each side. We have three lawyers and three witnesses." 
Mock Trial begins in September, by reviewing guidelines, procedures, and objections. A practice trial typically occurs in November. The preparation for the Spring Trial lasts from December to April. 
"Every week our club has two meetings. I, as a lawyer, practice asking both of my witnesses questions," said Guaraca. "On Thursdays, we have meetings with three professional lawyers who coach us through our performances and catch objections, tell us where to change the wording, and plan our strategy as a team. Asking questions repeatedly is the best way to prepare for the Trial, especially for the cross-examination. This lets me find holes in my questioning and figure out what I can change to get the witness to give me the response I want without wasting time. Since direct questioning is always on-script, practicing helps me feel more comfortable with my witness. We make sure they're answering questions correctly and that we meet the 10 minute time limit."
The trial will consist of an Opening Statement (five minutes for each team), then a Direct Examination (10 minutes for each team), followed by the Cross Examination (10 minutes for each team), and concluded with the Closing Argument (10 minutes for each team). As stated earlier, Spring Trial will be the team's first experience with a virtual trial. The members have considered and prepared for any trivial issues that lay ahead.
"For example," said Guaraca, "we had to figure out how to present evidence without being able to hand the judge the piece of evidence. Since I am writing the closing statement for the defense, I have to meet with the lawyers on my team to prepare it after they ask their questions, as a culmination of everything we asked. It's definitely going to be a different dynamic than competing in person, but we have to remember to take it just as seriously."
"This virtual world has been a huge change to prepare in," said Mr. Verboys, "but all the members have been awesome and adapted very well."
 On April 10, the students of Monroe-Woodbury High School's Mock Trial will use the best of their abilities and participate in the Spring Trial case Macca Elery McLaughlin v. Lee and Robbie McLaughlin.