Both Tense and Funny, "Blindspotting" is Flush With Thoughtful Social Commentary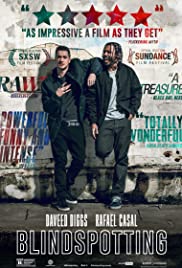 I became interested in watching the movie "Blindspotting" because the actor/rapper Daveed Diggs co-wrote and starred in it. I became a fan of Daveed after I listened to the albums he produced with Jonathan Snipes and William Hudson under the group name Clipping. Daveed's lyrical style is built on detailed and vivid storytelling in order to provide commentary on important social issues. 
As a result, I fully expected his talent for storytelling to translate seamlessly into screenwriting. Additionally, Daveed has already proven his talent for acting through his role in the original cast of the musical "Hamilton." In "Blindspotting," he delivered fully on both these fronts.
"Blindspotting" is a 2018 movie directed by Carlos López Estrada, written by and starring Rafael Casal and Daveed Diggs. This movie is a potent social commentary framed through the eyes of Daveed's character, Collin. 
Collin must struggle through the last three days of his probation without any incidents that would send him back to jail. He also must wrestle with the actions of his reckless and volatile childhood friend Miles, whose friendship could jeopardize Collin's commitment to a life of normalcy.
Collin is portrayed as a sympathetic character whose experience represents the roadblocks faced by many black people in modern America. These roadblocks include racial profiling by police, gentrification, and anxiety caused by societal pressures.
The injustice of these roadblocks is highlighted by the contrast between Collin and Miles'  experiences in Oakland. Miles, who is white, is routinely not punished, despite being far more reckless and unstable than Collin.
This movie initially proceeds at a calm pace, chronicling Collin's everyday activities, operating a moving truck with Miles. In this portion of the movie, there is light-hearted humor throughout and character development is the focus. The humor in this movie is delivered naturally, mostly due to the comedic chemistry between Daveed Diggs and Rafael Casal.
This tone is abruptly altered due to the initial incident of the movie, which dramatically changes the course of the plot, adding an pervasive feeling of tension that captures the experience of a black man in Oakland.
This film's thoughtful social commentary is supplemented by its strong performances, incredible soundtrack, and unpredictable plot. The only minor issue with the film is that despite a select few impressive shots showing the city of Oakland slowly succumbing to gentrification, the direction in this movie was uninteresting. However, this lack of interesting or impressive visuals is made up for in spades by the sheer emotion this movie is able to capture.
This film is an incredible achievement in social commentary, able to balance comedic and tense elements to explore an impactful and life-altering three days in Collin's life.